What size rims are on the Nissan Rogue?
Depending on the model year and trim level of your Nissan Rogue, rim diameters range from 17″ to 19″. Depending on the model year and trim level you drive, Nissan Rogue tyres are available in a broad range of tyre sizes, such as 225/65R17 tyres, 225/60R18 tyres, and 225/55R19 tyres.
Tires are important for your vehicle's safety, fuel economy, and driving experience in addition to keeping it moving ahead. Finding the right tires for your car can be difficult because there are so many different tire brands and tire types available. In this post, we'll explore the top 10 tire brands currently on the market. We examined the cost, industry reputation, tire reliability, and tread-life warranties of each major tyre manufacturer. Keep scrolling down to see the best tire for the Nissan Rogue.
---
01. Best Overall: Firestone All Season Touring Tire
Key Features: Firestone All Season Touring Tire 235/60R18 103 H
4.7 out of 5 Star Rating
A Tire You Can Count On
All-Season Performance
Built to Last With a 65,000 Mile Limited Treadwear Warranty
Deep sipes retain wet and all-season performance
Specially engineered to provide performance in wet, dry, and snowy conditions with traction and handling all year long
Harvey Firestone (1868–1938) established the Firestone Tire and Rubber Company in 1900, primarily to provide solid rubber side-wire tyres for fire apparatus and, subsequently, pneumatic tyres for waggons, buggies, and other popular wheeled vehicles of the time. Firestone was a pioneer in the mass manufacture of tyres after quickly seeing the enormous potential for selling tyres for vehicles. Due to his close relationship with Henry Ford, Harvey Firestone was able to supply the original equipment for Ford Motor Company cars as well as participate in the replacement market.
---
02. Best Runner Up: Nexen N'Priz
Key Features: Nexen N'Priz AH5 All- Season Radial Tire-225/65R17 102T
4.6 out of 5 Star Rating
With the Nexen N'Priz AH5 tyre, you can have it all: superb performance, solid all-season traction, a smooth, quiet ride, and all at an incredibly low cost. The tread pattern of this tyre prioritises comfort, handling, and toughness while still offering dependable traction on both dry and wet roads, as well as in mild snow. Experience driving with the Nexen N'Priz AH5 once more. Free on-the-spot tyre changes are available for three years under the new roadside assistance programme. The Road Hazard Replacement Program, which is now a part of the Nexen Total Coverage Warranty, will replace a tyre if it sustains damage during the course of one year or the first 2/32nds of its life.
Fit Type: Vehicle Specific
Product Type: Vehicle Tire
Package Quantity: 1
No Batteries Required
Dry And Wet Braking And Handling Is Competitive With Expensive Tier 1 Brands
---
03. Best 2nd Runner Up: Hankook Kinergy
Key Features: Hankook Kinergy GT H436 all_ Season Radial Tire-235/65R17 104H
4.7 out of 5 Star Rating
Optimized strength to improve tread stability even at high speeds
Improved tread stiffness for better handling / braking performance
Higher performance in winter conditions by promoting better grip and traction
Fit Type: Universal Fit
Rim Size: 17.0 Inches
Section Width: 235 Millimeters
Special Features: Honda Cr-V ( 16- 23)
---
04. Best 3rd Runner Up: Mastercraft Stratus
Key Features: Mastercraft Stratus AS All-Season Tire – 225/65R17 102H
4.8 out of 5 Star Rating
Tire Only – Wheel Not Included
50,000 Mile Treadwear Protection
Advanced All-Season Tread Design
Deep, Lateral Shoulder Slots
Spiral Nylon Overwrap
Cooper Tire, an American company, produces Mastercraft tyres. They provide a broad selection of tyres and have more than 100 years of combined experience. Mastercraft is the preferred brand among professionals due to this. The Mastercraft Stratus AS was designed for customers who simply want a good deal on a great tyre, and it has been tuned for all-season performance in vehicles and CUVs. It's perfect for someone searching for high mileage, strong traction, and affordability.
---
05. Editor's Pick: GT Radial MAXTOUR
Key Features: GT Radial MAXTOUR All Season All-Season Radial Tire – 205/70R15 96T
4.7 out of 5 Star Rating
Outstanding Mileage, All Season Performance, Quiet and Comfortable Ride
Backed by a 60,000 mile limited warranty
Road Hazard Warranty & 24 Hour Road Side Assistance
13″-16″ Rim Size
The main brand of Giti Tire, one of the biggest tyre manufacturers in the world, is GT Radial. The firm, which was established in 1993 and has its worldwide headquarters in Singapore, now employs over 34,000 people and exports to more than 130 nations. For Europe, GT Radial provides a full, mid-tier product line, comprising tyres for passenger cars, CUVs and SUVs, vans, light trucks, heavy trucks, and buses. Modern R&D centres for Giti Tire are situated in Nuneaton, England, and Hannover, Germany's famous MIRA plant. They collaborate with other international centres for research and development in the USA, China, and Indonesia.
Although GT Radial tyres are less expensive than those from more well-known manufacturers, they are of high quality. Additionally, they function admirably in a variety of environments and terrains. Additionally, GT Radial offers strong warranties and guarantees to support its tyres.
---
06. Best Recommended: Falken WILDPEAK
Key Features: Falken WILDPEAK A/T TRAIL All- Terrain Radial Tire-235/60R18XL 107H
4.7 out of 5 Star Rating
Backed by a 65,000 mile limited manufacturer tread life warranty
Designed for use on CUVs and smaller SUVs that drive on- and off-road
3D Canyon Sipe Technology and increased tread depth provide more winter traction than a traditional all-season tire
Falken's Wildpeak A/T Trail is built for adventure and delivers rugged off-road capability without compromise on the open road. Engineered for the modern crossover, the Wildpeak A/T Trail balances aggressive off-road traction with dependable all-weather performance.
The Falken Wildpeak A/T Trail is an all-terrain tire that's built for use on CUVs and SUVs and offers drivers excellent performance on- and off-road. Backed by a 65,000 mile limited manufacturer tread life, the Wildpeak A/T Trail optimized tread design allows for versatile, efficient performance while a durable construction and rugged upper sidewall protects the tire from off-road damage for a longer service life. An aggressive tread pattern enhances performance, and the Wildpeak A/T Trail is Three Peak Mountain Snowflake certified for use in winter weather conditions.
Crossover-specific design: The Falken Wildpeak A/T Trail boasts a unibody construction that offers great handling and stability throughout the year and a crossover-specific design that suits the higher centre of gravity of a CUV. Off-road toughness: A sturdy, 2-ply polyester construction and a thick top sidewall protect the Wildpeak AT Trail from jagged rocks, twigs, and other off-road debris known to damage tyres. 
Weather-resistant traction: The Wildpeak A/T Trail uses Falken's 3D Canyon Sipe Technology, which creates deep biting edges that go all the way to the tire's casing and offer exceptional grip in icy, wet, and dry conditions even as the tyre ages. Reliability on the road: An enhanced design and a silica-based rubber composition make it feasible for the Wildpeak AT Trail to exist.
---
07. Best for Budget: Starfire Solarus
Key Features: Starfire Solarus AS All-Season 225/65R17 102H Tire
4.7 out of 5 Star Rating
50,000 mile warranty
All-Season Touring Tire
Ideal for consumers looking for plenty of miles, good traction and fuel economy
M plus S Rated (mud and snow)
Manufactured by Cooper Tire & Rubber Company
The Starfire Solarus AS All-Season 225/65R17 102H Tire is a superb tyre at a reasonable price for your car. The cutting-edge all-season tread design gives you lots of miles while providing all-season grip in dry, rainy, and snowy situations. The tread has been computer-designed to minimise noise, resulting in a tyre that runs quietly at highway speeds.
Deep, lateral shoulder grooves in the tyre assist maintain great traction during its entire lifespan. The tire's spiral nylon overwrap enhances the tire's footprint's interaction with the road. A smooth ride and controlled handling are provided by the strong centre rib tread pattern. For vehicles and CUVs, the Starfire Solarus AS All-Season Tire is designed for all-season performance.
---
08. Best All-Season Tire: Pirelli PZero
Key Features: Pirelli PZero All Season Ultra High Performance Radial Tire – 215/55R17 94V
View on Amazon
4.6 out of 5 Star Rating
Pirelli Tires: 150 Years of Excellence
Pirelli has 150 years of expertise producing superior tyres for every purpose. Pirelli was established in Milan, Italy, in 1872. Pirelli's leadership in racing and technology directly affects regular customers. Pirelli has a presence in more than 350 motorsport contests worldwide and is the Global Tire Partner of Formula 1. Along with motorbikes and bicycles, daily coupes, sedans, CUVs, SUVs, minivans, and pickup trucks all use Pirelli tyres.
To commemorate their 150th anniversary, Pirelli has created a year-long celebration that includes a worldwide countdown, a play, an advert, a coin, a stamp, a special issue of World magazine, a 3D website implementing the latest digital innovations, and the publication of a book. As one of the top companies in the world, Pirelli continues to focus heavily on sustainability as a core value integrated into the engineering of all of their products.
---
09. Best : Milestar Sport All Season
Key Features: Milestar MS932 Sport All Season Radial Tire – 215/55R17 98V
4.5 out of 5 Star Rating
The all-season, touring design of the MILESTAR Sport delivers year-round consistency and ease of operation while offering a thrilling ride with aerodynamic handling and execution. These tyres are made for a range of vehicles, including touring and crossover cars, and have speed performance ratings of H, T, and V. On the road, they are able to respond steadily and precisely. All-season tyres with improved water dispersion and extended tread life. The Mile Star MS932 Sport is a trustworthy tyre that will always keep you and your loved ones secure.
Wide circumferential ribs provide stability, handling, and lateral grip. Lateral sipping provides reliable traction in adverse conditions. Optimized Tread: Tread pattern optimized for all-season performance. Wide Circumferential Grooves: Wide circumferential grooves assist in the water's outflow to lessen hydroplaning. performance that is T, H, and V-rated according to speed. Dry Tread Design: Tread design with increased performance for better handling in dry situations. Seasonally appropriate pattern design and tread compound. Fitments: Created to fit a range of modern cars, including touring and CUV models.
---
10. Hankook KINERGY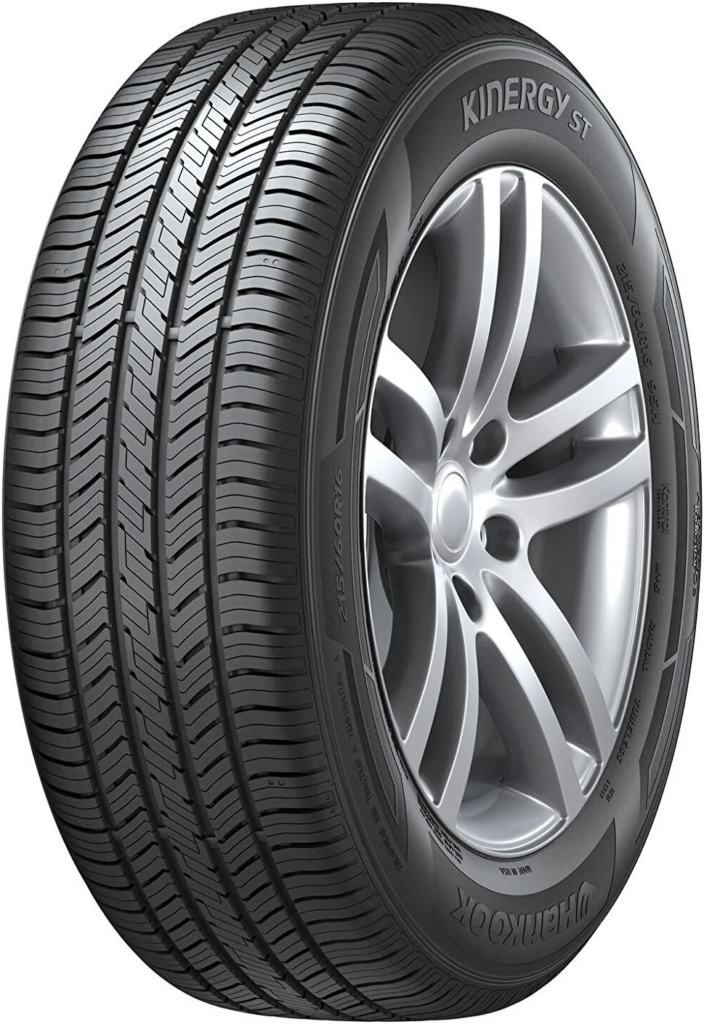 Key Features: Hankook H735 KINERGY ST Touring Radial Tire – 225/65R17 102T
4.5 out of 5 Star Rating
The Kinergy-ST is a balanced all-season tyre designed for daily driving in almost all circumstances. Open shoulder gaps help to reduce the likelihood of hydroplaning, while tread patterns extend tyre life and improve stability. If necessary, the Kinergy-ST can even manage moderate snowfall. A six-year/70,000-mile guarantee and a one-year warranty against road hazards are also available for the Kinergy-ST.
In 1941, Jae Hun Chung's grandfather founded Hankook Tire as the Chosun Tire Company. In 1968, the company changed its name to Hankook Tire Manufacturing. The business now provides tyres to several manufacturers as original equipment. The firm distributes batteries, alloy wheels, and brake pads, as well as the 102 million tyres it produces each year. To become the fifth-largest tyre producer in the world, Hankook Tire Co. has said that it will spend $1.1 billion to construct a facility in West Java, Indonesia. A 60-hectare site was officially opened for business on June 9, 2011, as a regional centre for exporting goods to nations in Asia, North America, and the Middle East.
---
Conclusion:
What size rims are on the Nissan Rogue?
Depending on the model year and trim level of your Nissan Rogue, rim diameters range from 17″ to 19″. Depending on the model year and trim level you drive, Nissan Rogue tyres are available in a broad range of tyre sizes, such as 225/65R17 tyres, 225/60R18 tyres, and 225/55R19 tyres.
Best Tires for Nissan Rogue: Although tyres appear straightforward and are sometimes taken for granted, their design may be rather complex, from the chemistry of the rubber compound to the tread pattern. Tire variations can affect braking, handling, comfort, noise, and even fuel efficiency. Given the complexity of tyres, selecting the best replacements can be difficult, particularly if you rely on recommendations from friends or messages from in-store marketing campaigns. Consumer Reports can be useful here.
In the past, you occasionally had to give up performance if you wanted to extend the life of your tires to save on replacement expenses. Modern versions are frequently substantially more durable as a result of years of technological advancement. Nevertheless, picking the tires with the longest lifespan is still difficult because not all of them are appropriate for your needs.
Can my Nissan Rogue get larger tyres?
Although it is possible to alter the diameters of the wheels and tyres, it is generally advised to maintain the same overall diameter for the wheels and tyres. As a result, reducing the size of an 18-inch wheel to a 17-inch wheel would necessitate increasing the sidewall of the tyre proportionally to compensate. 
What is the ideal tyre lifespan?
People typically travel between 12,000 and 15,000 miles per year, so an average good all-season tyre will last between three and five years, depending on maintenance, driving habits, and weather conditions.
Should I get four new tires?
It's always ideal to change all four tires at once. This is due to the fact that all four tires spin independently of one another and that the pace at which they spin can vary depending on the tread depth and/or style. That may harm the drivetrain and perhaps interfere with an indirect TPMS system, if the car has one.
If I get new tires, do I need an alignment?
Following the installation of a new tire, an alignment is advised. You may be able to extend the life of your new tires by doing so. After a large accident or if you notice uneven tyre wear, wheel alignment inspections are always recommended.
Does the brand of the four tires have to match?
It is advised that cars be equipped with the same tires on all of their wheels for maximum safety and performance. In other words, the front and rear tires must have the same brand, size, tread pattern, load index, and speed rating. There are a few circumstances, though, that can force you to mix tyre manufacturers.
---
Read More: